Jackets get clutch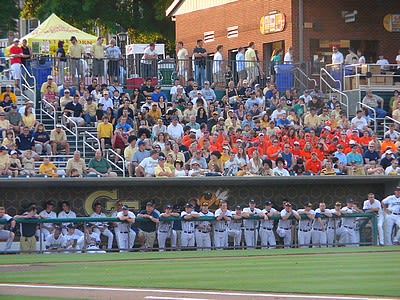 Atlanta -- Championships are won with clutch plays. Friday evening at Russ Chandler Stadium, Georgia Tech made more of them than Clemson. For those paying attention, that is not surprising considering the Yellow Jackets have lost just five games all season and Clemson has dropped ten of their last 16 - including seven by two or fewer runs.
Clemson had opportunities. Some they snagged. Others slipped through their fingers. As the competition rises, those miscues are too much to overcome and the close losses mount.
The teams battled for nine innings and had not settled anything. Tied at six, someone had to make a play in the tenth.
The Tigers loaded the bases with one out for cleanup hitter Kyle Parker. You remember Parker? He is definitely no stranger to clutch moments. The starting quarterback for Dabo Swinney's football team eludes 300 pound lineman trying to rip his head off.
He shouldn't be fazed by Andrew Robinson - the Georgia Tech reliever who entered the game with the bags full of orange jerseys.
Robinson was not fazed either.
"The adrenaline was pumping, I had to calm myself down," admitted Robinson. "If I am all hyped up I get kind of wild. I started joking around. I told (my teammates) I am better when they joke around so we make it fun."
He had a lot of fun on the mound Friday. He fanned Parker on a fastball while the hitter looked for something else.
"We thought our best chance was the get their best home run guy Parker to hit into a double play," said Georgia Tech coach Danny Hall. "Robinson pitched him tough and struck him out."
The big question some of us had about the powerful ACC leading Jackets club was the bullpen. Robinson was up for the challenge. He caught Parker looking, then got a soft line drive from John Hinson right at shortstop Derek Dietrich to end the threat.
Clutch moment 1: Advantage Yellow Jackets.
After avoiding trouble of their own, it was Georgia Tech's turn to cause Clemson some heartburn.
With two outs in the bottom of the tenth, Matt Skole worked a walk to extend the inning. Chase Burnett strode to the plate. He knew this was a big moment.
"It was a big situation for the whole team. I got a little nervous - had a little cotton-mouth. I went up looking for something I could drive."
Burnett smashed a David Haselden pitch over the right-center field wall to give his team an 8-6 ten inning victory. He watched the home run clear the wall as he ran to first - enjoying the moment every young boy dreams about as the wiffle ball clears the oak tree. This time it was a hardball but it found a home in a tree just the same.
"I was watching it," stated Burnett. "I was not sure it was going to go out because it was kind of low. I was saying, 'please go out, please go out'. That is just a great feeling. That is what you dream about as a kid hitting a walkoff home run. That is what everyone would love to do."
"What can I say," said Hall, "that was special right there."
Clutch moment 2: Once again, Yellow Jackets.
The contrast is maddening for Clemson fans. So many close games. So many close plays. So many heartbreaking losses. The Tigers' woes did not just start in the tenth. They made "errors" several times throughout the game that were not listed in the error column on the scoreboard. Infielders slow-playing grounders and throwing late the first. An outfielder lost a easy fly in the lights. Sacrifice bunt attempts popped up. None are technically errors, but all contributed to the loss. In an extra inning game, every play is magnified.
Of course, all was not rosy for Georgia Tech. Ace starter Deck McGuire has given up six runs in each of his last two innings. The 2009 ACC Pitcher of the Year began the season great but since then has seen his production drop with the runs allowed.
"I honestly thought Deck was good," said Hall. "He got a couple of balls up and (Mike) Freeman and (Jeff) Schaus hit them out. Give Schaus credit, he has worn us out. I'll have to stay up tonight to figure out how to get him out. He is a great hitter."
That is a much easier to say after a win.
For Clemson, they suffered another heartbreaking loss. Some may say a pattern is developing. That puts the quick turnaround for Saturday's 1 PM game (televised on FSN-Regional) of even greater importance.
Another clutch moment awaits. How will the teams respond?