ESPN leading a college baseball resurgence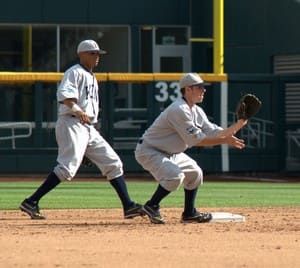 College baseball has never been more popular, better marketed, or more competitive. There are more programs committed to winning than ever, more television broadcasts, and more fans in the stands. And an unlikely source should get some credit for their role in this maturation.
For years the college baseball hardcores complained about the lack of regular season telecasts on ESPN. The network provided incredible coverage of the Super Regionals and College World Series, but barely provided any game coverage before June. The postseason broadcasts seemed more focused on explaining why the games are inferior to the professional counterparts than actually showcasing the sports' strengths.
The network brought unprepared broadcast crews who were seeing a handful of games each season. Announcers routinely mispronounced names, railed against college-centric strategy, and failed to grasp the attributes that make college baseball special.
College baseball fans complained but - hey, at least some broadcasts where better than none. But there was always the tease of what if a major player like ESPN would dedicate themselves to our sport as they do football and basketball?
The ratings for the sparse regular season games had always been hit or miss - largely because of the programs selected for telecast, or the time the games shown, or a lack of awareness by fans that the games were even on.
We always wondered if the telecasts would be a success if the conditions were different? What if we picked high-quality teams with passionate fanbases? What if the games were broadcast when the hard core college fans were not already at a ballpark? And what if we knew there would be a game on the same channel at the same time each week?
Well, we received just that in 2010 … ESPNU, SEC programs, Thursday evenings so fans of opposing teams can watch. That way we have weekend starters - often aces - on the mound giving us prospects for the MLB fans and the pageantry and excitement of an engaged crowd.
Instead of a Sunday game played with down-the-staff pitchers, we saw elite arms. Add in the bat changes and the games more resembled true baseball. The networks and the fans have embraced it.
"I think we may be seeing the rebirth of college baseball, "said ESPN College Baseball Analyst Mike Rooney. "Just like when ESPN got involved with college basketball, it was a good product that wasn't very well marketed. It is the same with college baseball. It hasn't been well marketed. The difference is now (ESPN) they are really excited about college baseball and making a commitment."
That commitment was not always there. For years it seemed the rare college baseball telecasts were viewed more as an obligation. The production quality was there but the commentary was often forced or worse. Announcers viewed the game through an MLB lens and the results were frustrating to college baseball fans.
"College baseball is really different than professional baseball," Rooney said. "If it is presented as lesser version of MLB, then it won't work."
In the past few seasons, ESPN has improved their broadcast quality. Instead of a retired big leaguer who may not have seen a college game all season thrust in to call a postseason game, now the opportunity is there for an announcer to broadcast college games all spring. Some announcers are even college-only guys - dedicated to follow the sport and understand the nuances that make the sport different from the pay-for-play variation.
There is no coincidence that the commitment to a better college baseball product coincided with the bat and pace changes.
"The new bats are TV friendly," Rooney added. "It makes it easier to put on TV. You have to save a four or five hours versus three hours or less. And I don't think we have lost the excitement. The style of play changed but we haven't lost the drama."
Apparently not - according to the ratings.
SEC Media Relations Director for Baseball Chuck Dunlap mentioned on twitter that ESPN said "… SEC baseball has risen to men's hoops-type ratings for them".
The SEC and ESPN do not release comparative ratings but Dunlap indicated baseball games on ESPNU do compare favorably to the basketball games on the same network. The Thursday night telecasts are back with eight more games this season with other games expected to be televised on other days.
"Our Thursday night SEC on ESPN has exceeded both ours and ESPN's expectations," said SEC Consultant Larry Templeton. "We are pleased with the exposure it has not only given our conference but all of college baseball. Regular season college baseball television has developed a great viewership leading up to the NCAA post-season and ESPN's broadcast of the College World Series."
Another surprise came in a followup tweet stating, "40% of their college baseball audience nationally is in Southeast, with of course, B'ham leading the way".
From a perception standpoint, many would have felt the percentage of southeastern fans would be higher. For 60% of the audience to live outside the land of grits and sweet tea is encouraging. College baseball has been labeled a "regional sport" by critics and this number makes one think there is varied interest for our sport.
Add in the College World Series trips by Stony Brook and Kent State last season and the National growth should only accelerate. Administrators see those wild rides to Omaha and think, "this is really exciting. Why can't we do this?"
The sport certainly has its problems but from a broadcast and marketing perspective things have never been better. As surprising as it would seem to many a few years ago, ESPN deserves their share of the credit.