Could Privateers Return To Sun Belt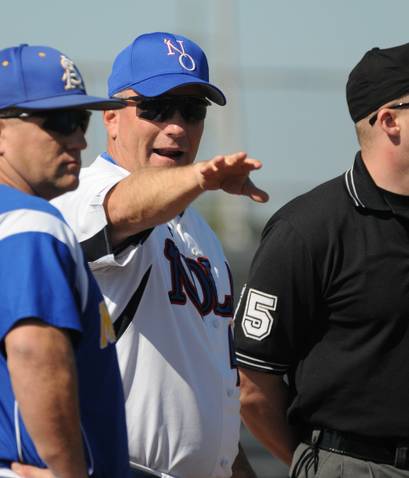 When University of New Orleans baseball coach Bruce Peddie assembled his team this season, he did so with three players on scholarship. That's because of a series of rather unique circumstances that has had the state university poised to drop classifications from NCAA Division I to Division III, settle for Division II and now remain a Division I program.
"It certainly has been a very rocky road," Peddie said.
Initially, UNO withdrew from the Sun Belt Conference in 2010 with the intention of moving to Division III. Then in April of last year, UNO received permission from the NCAA to begin the transition from Division I to Division II instead. But earlier this month, new UNO President Peter Fos made a surprising announcement that the athletic program will remain in Division I.
Since UNO first sought to move to Division III, it's been anything but stable for the baseball program.
When the 2008 season concluded, the Privateers had just been to back-to-back regionals after advancing to consecutive Sun Belt Conference tournament championship games (winning the title in 2007).
Peddie, who took over for Tom Walter after the 2009 season, said he was hard at work recruiting players during his first season at the helm of the program when he learned that the Privateers were leaving Division I.
"Forty-eight hours before I'm going to sign them, all the coaches get called over to the chancellor's office, and he informs us that we're going to Division III and you're not going to be able to sign the scholarship papers for the kids," Peddie said.
Because no athletic scholarships are offered at the Division III level, Peddie spent the 2010 season trying to place the student-athletes at other schools. In all, 22 players left for other programs.
"It was really disheartening to me as the coach to see this program going from the peak and on the cusp of getting into super regionals and where Coach Walter was taking us to all of a sudden having the door slammed on your face," Peddie said.
The summer of 2010 was spent trying to get as many players into school as Peddie could.
With only three scholarship players, Peddie then had the "crazy" idea to play all Division I programs in 2011. Peddie said relief came in the form of scholarship money with the decision to instead transition to Division II.
"So we brought in this year's group as Division II, and so that changed everything," Peddie said.
This latest announcement means Peddie must now assemble a Division I schedule and players for next season.
"I've got a lot of work ahead of me," Peddie said, adding that he's "up to the challenge."
That challenge includes finding a new conference for all of UNO's athletic programs.
Currently, the Privateers (11-12) compete as a provisional Division II member. Although they have already been admitted to the Division II Gulf South Conference and began playing a league schedule this season, the Privateers aren't eligible to win the championship until next season.
That won't happen anymore, as UNO's president said conversations with Division I conferences have already taken place.
"The University of New Orleans has had preliminary discussions with two different NCAA Division I conferences," Fos said in a statement. "It is our intention to join a conference as soon as we are able. I believe UNO's history, facilities and location in a major American city make it very attractive to prospective conference partners."
Fos didn't specify which two conferences his alma mater is talking to, but an obvious fit for UNO would be the Sun Belt, which has twice been home to the Privateers. UNO was one of the conference's charter members in 1976. The relationship ended four years later when UNO was ousted, but the Sun Belt and Privateers reunited after a merger with the American South Conference in 1991.
"Well, that's really not a decision that I should comment on," Sun Belt Conference Commissioner Wright Waters said when asked if the league would consider taking back the Privateers.
Waters, who has been commissioner since 1998 and will retire July 1, said membership is something the school presidents would have to address.
After UNO left the Sun Belt in 2010, the conference made up for the departure by designating each team with a regional rival to play a home-and-away series, thereby guaranteeing an annual visit from the designated squad while maintaining a 30-game league slate.
Waters called the current baseball-playing membership "very strong."
"I think the conference is in a position where they don't need to be looking at any school that can't bring additional value to the league," Waters said. "Now, whether UNO can do that or not is probably a very subjective issue."
Peddie said if it was up to him, he'd want the Privateers to return to the Sun Belt. He cited the Sun Belt's history of being a two- or three-bid league in the NCAA tournament.
"If it was strictly a baseball decision, the Sun Belt, right now, is a better conference," Peddie said.
But Peddie suggested that the cost of travel would be cheaper in the Southland Conference, perhaps hinting at which of the leagues UNO might pursue.
"You have four Louisiana schools in the state," Peddie said. "We would be the fifth."
There are also seven other member schools in neighboring Texas.
Economically, Peddie said, "it probably makes more sense to be in the Southland."
Waters said any conference expansion involves two processes.
"There's a process described by constitution and bylaw, and then there's a reality process where nobody wants to be embarrassed," Waters said.
Waters said the official process begins with an application. Next, he said, a visiting committee travels to the prospective campus and then reports back to the membership before a formal vote.
"The reality is that most of the time there's a very quiet call from someone of position of authority at the university to the commissioner of a league that says, 'Hey, we might be interested. Can we sit down and visit?'" Waters said. "And there are conversations out of the public view, and sooner or later it gets to the point where one winks at the other and says, 'We'll offer if you'll accept.' And the other one winks back and says, 'We'll accept if you offer.'"
Waters said the Sun Belt hasn't had any contact with UNO since Fos' announcement.
Incoming Commissioner Karl Benson was unavailable for comment, but Sun Belt spokesman John McElwain said in an email that the conference "is in an exploratory phase regarding possible future members."
Still, Wright said he'd listen if Fos came calling.
"I think you listen to anybody and everybody," Waters said. "You would listen out of respect to a former member."
Waters said the biggest challenge facing Sun Belt teams is trying to get back to Omaha. The conference hasn't had a team in the College World Series since Louisiana-Lafayette in 2000.
Meanwhile, UNO is also searching for a new athletic director to lead the charge during the transition.