Beyond the Boxscore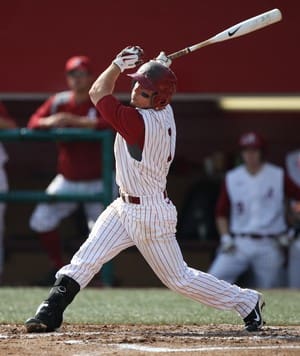 Alabama's three-game sweep over rival Auburn and Mississippi State's first SEC series win of the 2012 season were among the Easter Sunday highlights. Kentucky, Arkansas and South Carolina also closed the weekend with series-clinching wins.
Alabama (13-19, 4-8 SEC) posted a 6-2 win over rival Auburn to complete its first sweep over the Tigers since 2002. Junior catcher Brett Booth stroked a two-run home run in the fifth inning to give the Crimson Tide a 3-0 lead. The Crimson Tide put the game away with three runs in the seventh inning to build a 6-1 lead.
"This was really the first week of play that we started putting everything together and we caught a few breaks with that," Alabama head coach Mitch Gaspard said. "Quite honestly, I don't know that we played a whole lot differently at Tennessee than we played this weekend. We just could not deliver a big hit. All of a sudden we started getting some of those, and we got a couple breaks. A couple balls fell in, we made a couple plays, and it really starts to change the whole mindset of your team."
Senior left fielder Hunter Gregory went 2-for-4 with two runs scored, while senior center fielder Taylor Dugas and freshman right fielder Ben Moore had two hits each. Jon Keller (1-1) worked 5 2/3 innings for the win, while Jake Hubbard retired all five batters he faced for his second save.
Auburn (17-14, 6-6 SEC) got a solo home run from Justin Bryant and sacrifice fly from Dan Glevenyak to account for Sunday's offense. Daniel Koger (2-2) took the loss with five innings of work.
Mississippi State picked up its first series win of the season with an 8-7 come-from-behind win over Vanderbilt. The Bulldogs walk-off win coincides with the return of several key starters who had missed significant time with injuries.
MSU designated hitter Darryl Norris went 3-for-4 with one run scored and three RBI in the win, including a walk-off RBI double in the ninth inning that scored Mitch Saluter with the game winner. MSU centerfielder C.T. Bradford, another player back from the disabled list, had one hit and one RBI for the Bulldogs.
"The story for the game is we go down four and the kids keep battling," MSU head coach John Cohen said. "We stayed positive and kept believing that we were going to find a way to get this done. A lot of people helped on the mound. You can't say enough about Daryl Norris."
Vanderbilt (13-19, 4-8 SEC) held leads of 4-0, 5-3 and 6-5 but could not hold on for the road series win. Tony Kemp and Anthony Gomez combined for six hits, four runs and two RBI out the top two spots in the batting order.
Kentucky (30-3, 9-3 SEC) erased a one-run deficit in the sixth inning to claim an 8-3 series-clinching win over Ole Miss. The Wildcats hold a two-game lead of Florida in the SEC Eastern Division standings.
UK trailed 2-1 in the fifth inning before right fielder Cameron Flynn cranked a grand slam as part of a five-run sixth inning to take a 6-2 lead. Flynn finished the game with two hits. Center fielder Austin Cousino went 3-for-5 with two runs scored and one RBI, while catcher Luke Maile was 2-for-4 with two runs scored, one home run and two RBI.
Cory Littrell (5-0) held Ole Miss to two runs on nine hits in six innings for his fifth win of the year. Ole Miss starter R.J. Hively (3-2) allowed six runs and five hits in five-plus innings and took the loss.
Ole Miss (21-10, 6-6 SEC) was led by left fielder Tanner Mathis and third baseman Andrew Mistone, who had three hits each.
Arkansas (24-7, 7-5 SEC) posted its sixth shutout of year with an 8-0 series-clinching win over Georgia. Junior right-hander DJ Baxendale limited the Bulldogs to six hits in a season-high eight shutout innings. He also recorded a season-high seven strikeouts en route to his sixth win of the season.
UA first baseman Dominic Ficociello went 2-for-5 with two runs scored, one home run and three RBI. He stroked a two-run home run in a four-run third inning and added an RBI single in a three-run eighth inning. Third baseman Matt Reynolds and right fielder Jimmy Bosco had two hits each.
Georgia (19-13, 5-7 SEC) managed only six hits in the loss and no player had more than one hit. UGa starter Peter Nagel allowed three runs and two hits in two-plus innings and took the loss. After winning their first series of the season against Tennessee, Georgia has now lost three straight SEC series.
South Carolina (23-9, 5-7 SEC) used a four-run fifth inning to knock off Tennessee 6-1 at Carolina Stadium. The Gamecocks have won their last two SEC series and are slowly creeping towards the .500 mark after starting with a 1-5 league record the first two weekends.
The Gamecocks had six different players with an RBI in the win over the Vols and all four runs in the fifth inning were unearned. USC right fielder Adam Matthews and catcher Dante Rosenberg had two hits and one RBI each. Colby Holmes (4-0) held UT to one run and four hits in seven innings with six strikeouts and no walks for the win.
Tennessee (20-12, 6-6 SEC) scored its only run on Chris Fritts' solo home run in the seventh inning. UT starter Nick Williams allowed four unearned runs and three hits in 4 2/3 innings and was charged with the loss.
PLAYER OF THE DAY: MSU designated hitter Darryl Norris went 3-for-4 with one run scored and three RBI in the Bulldogs 8-7 series-clinching win over Vanderbilt … Norris had a walk-off, two-out double that scored Mitch Slauter with the winning run in the bottom of the ninth inning as MSU overcame three different deficits … Norris also stroked a game-tying, two-run single in the fifth inning as MSU evened the score at 5-5.
PITCHER OF THE DAY: Arkansas right hander DJ Baxendale shook off some midseason struggles with eight shutout innings in the Razorbacks 8-0 series-clinching win over Georgia … Baxendale limited the Bulldogs to six hits and struck out a season-high seven for his sixth win of the season … He threw 109 pitches (84 strikes) in the win.